We hope you're enjoying the warmer weather, soaking up the sun (responsibly, of course, with plenty of SPF) and feeling fabulous! At Elevé, we're helping you elevate your summer with July specials and giveaways too hot to miss! Throughout the month, buy any filler service and receive a complimentary DEXA Scan. Or, if skincare's more your style, get bonus ZO® products when you spend $500 or more on ZO® skincare + enjoy 10% off the product of the month!
Don't let these deals slip through your fingers like sand at the beach! Set up an appointment: 715-847-0000 or shop our online store today!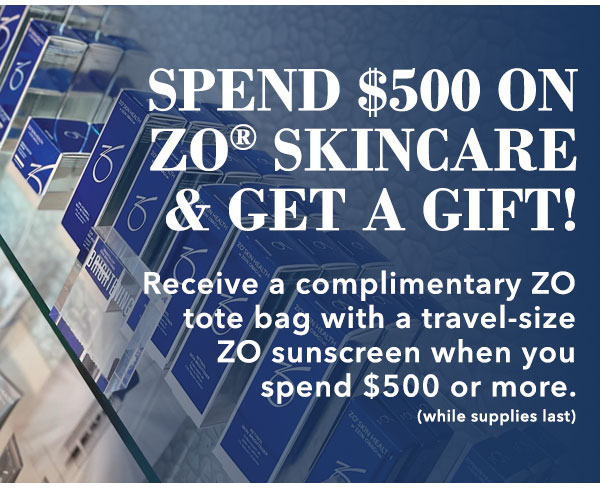 ZO® SUNSCREEN + PRIMER BROAD-SPECTRUM SPF 30
This dual-action sunscreen, with ZOX12® complex, protects against the damaging effects from UVA/UVB and IR-A rays, and from HEV light. It hydrates and doubles as a makeup primer for a smooth matte finish, diminishing skin imperfections. The sunscreen was awarded a Seal of Recommendation by Skin Cancer Foundation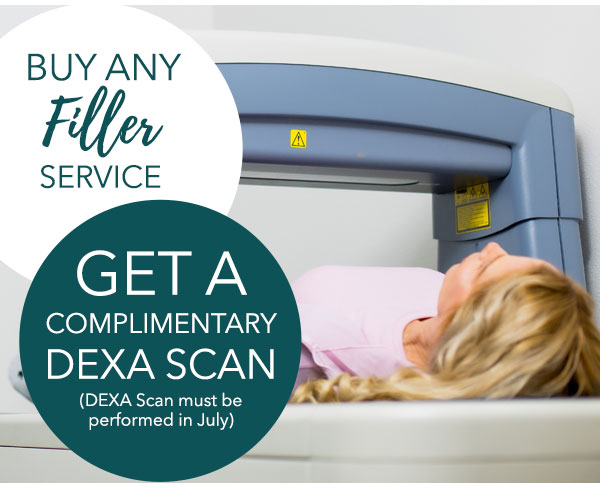 Dermal Fillers: A Quick, Non-Surgical Option for a Stronger Jawline
While it's often overlooked, the contour of our jawline can dramatically impact our facial appearance. A softer jawline or weak chin can throw off the symmetry of facial features, downplay the fullness of your cheeks, and even make your nose and forehead look bigger. It wasn't that long ago that plastic surgery was the most common approach to enhancing the jawline, but dermal fillers have since stolen the spotlight. Fillers offer a non-surgical alternative that lends remarkable results. When injected with the skilled hands of an experienced practitioner, they can be the magic wand you need for a chiseled, rejuvenated jawline.
How does jawline filler treatment work?
At Elevé, we use JUVÉDERM® hyaluronic acid (HA) filler to artfully sculpt and refine our patients' jawlines.
HA is a natural component of your skin, acting as the bedrock of its firmness and volume. When we're young, HA is abundantly present in our skin, keeping it hydrated and flexible. However, as we age, production naturally diminishes, meaning our jowls start to sag and our jawlines become less defined. But don't worry! That's where Elevé comes in with fillers formulated with a synthetic version of HA to rejuvenate your facial features!
When injected into key areas along your chin and jaw, these fillers boost volume and create a clear separation between the jawline and neck. The HA filler plumps skin by binding to water molecules and encouraging collagen production.
Who are the best candidates for jawline filler treatment?
Jawline filler is the go-to solution for those looking for a non-invasive treatment to add a distinct jaw edge; smooth wrinkles; tighten thinning, sagging skin; or simply achieve a more youthful appearance.
Patients with loose jowls, a double chin, or excess fat around the jawline may also want to pair jawline filler with other treatments, like KYBELLA®, CoolSculpting®, or BOTOX®, for optimal results.
What are the benefits of jawline fillers?
There's a lot to like when you consider the benefits of a dermal filler procedure. First and foremost, it's non-surgical, so you don't have to worry about a lengthy recovery period. The risk of side effects is also quite low, and the procedure is quick and relatively painless. The best part? It's not one size fits all. Jawline contouring can be tailored to meet your individual needs and preferences, ensuring a result that's uniquely you. And, these procedures are FDA-approved, so you can be confident about their safety and efficacy.
Jawline Filler FAQ
How long does the procedure take?
Imagine revitalizing your look in the same amount of time you'd take for a lunch break! A typical treatment only requires about 30-45 minutes of your time. Best of all, there's no recovery time, so you can resume your daily activities immediately.
Does it hurt?
Even though jawline fillers involve the use of tiny needles, we mitigate any potential discomfort with a topical anesthetic. So, rest assured, you're in for an experience low on pain and high on results.
What can I expect after treatment?
Get ready to see instant changes! Though, it will take a few days for the full effects of jawline filler to be visible. You might encounter some minor tenderness and swelling after treatment, but any symptoms usually subside within 1-2 days.
How long do the results last?
Everyone metabolizes HA at their own unique pace, though studies suggest the benefits can last anywhere from 9 to 24 months. We do recommend periodic touch-ups to keep that jawline looking its best for longer. At Elevé, an injection specialist will partner with you to create a treatment plan specific to your needs and goals.
Redefine Your Jawline at Elevé
From restoring the natural vibrancy of your skin with HA to sculpting a strong jawline, dermal fillers offer a non-surgical, convenient, and customized solution for those who seek facial rejuvenation.
At Elevé MedSpa, we don't just provide a service, we offer an experience backed by top-of-the-line products, proficient professionals, and a keen understanding that beauty is never one size fits all. We invite you to explore the possibilities of dermal fillers with us. It's your time to embrace a younger, more vibrant you. So why wait? Get in touch with us today, and together, let's elevate your look.
Purchase any filler treatment in July and receive a complimentary DEXA Scan (DEXA Scan must be performed in July). Set up a consultation today: 715-847-0000
ZO® Skin Health's Growth Factor Serum is a lightweight gel for all skin types that helps minimize the appearance of expression lines and wrinkles. It was named one of the 13 Best Anti-Aging Serums with Growth Factors by Cosmopolitan.
*Must schedule your treatment during the month of July to receive these special offers. Specials cannot be combined with any other special offers. Deals expire 7/31/2023.
BOOK YOUR APPOINTMENT
715-847-0000
Elevé is a medical spa focused on wellness.
We are all about preventing illness so you can live with confidence and independence, staying healthier longer.
This means if you want to prevent aging, scarring, cancer, weight gain or need to address a problem area that is keeping you from living your best life now, we are here to help the whole you.
Our practice is owned by 10 surgeons who have served the community for more than 35 years.
They created Elevé out of a passion to treat a person before they are sick… and holistically.
We are supported by practitioners who combined have more than 25 years of experience in the dermatology, vitality and aesthetic fields.