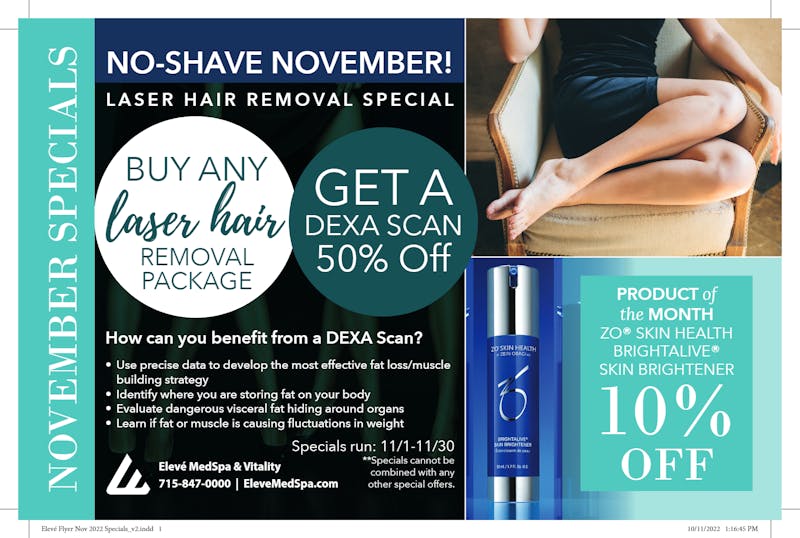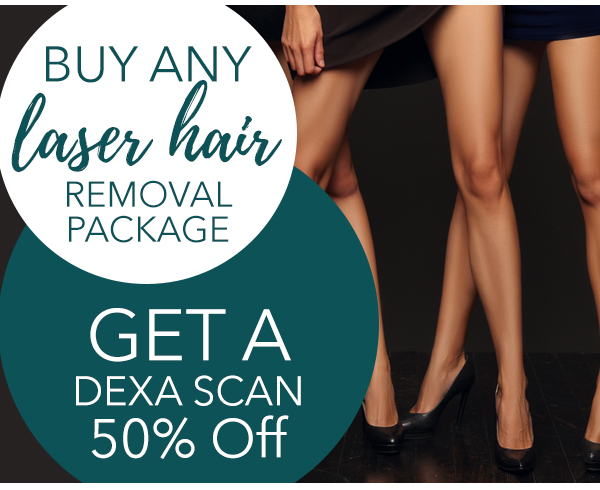 And just like that, it's November – or, what we call at Elevé… "holiday party-prepping season"! Now is the time to start scheduling your favorite MedSpa treatments. Whether you're celebrating with coworkers, out for cocktails with old friends, or decorating your home with family, we want you looking and feeling your best. Our team of skincare experts is ready to help you get a "leg up" with our No-Shave November specials. Buy any laser hair removal package and receive a DEXA Scan for 50% off. Also, enjoy 10% off one of our favorite skin brighteners: ZO SKIN HEALTH BRIGHTALIVE®.
Remember, the holidays are an important time to give yourself the gift of self-care.
No-Shave November? Make it "No Shave EVER" with Laser Hair Removal
There are plenty of temporary options for people who want to remove hair from their face or body. The problem is that each one comes with at least one detractor. Shaving results are short-lived. Plucking is a tedious timewaster. Depilatory creams are messy and often smell awful. And waxing can be painful and harsh on sensitive skin. In addition, these methods are time-consuming and expensive: The average woman spends a whopping 72 hours and up to $23,000 removing hair during her lifetime.
Imagine cutting your shower time in half and having that freshly-shaved confidence for months or years at a time! It's possible with laser hair removal.
If you're unfamiliar with the procedure, and are wondering how it works, read on for answers to the most important FAQ.
What is Laser Hair Removal?
Laser hair removal is a non-invasive, FDA-approved aesthetic treatment that uses precisely calibrated laser technology. Other methods chop hairs off at the base, while laser hair removal targets and inactivates the hair follicle itself. This reduces the hair's ability to grow and sometimes stops it permanently!
Laser hair removal can treat unwanted hair almost anywhere on the body or face:
Underarms
Legs
Bikini line
Between brows
Upper lip
Chin
Forearms
Back
Shoulders
What are the Benefits of Laser Hair Removal?
Save time and money
Laser hair removal can be performed in as little as 15 minutes. The smaller the area being targeted, the less time the procedure will take.
While laser hair removal has a higher upfront cost, treatments will result in significant savings over the combined cost of razors, shaving cream, and waxing appointments.
Enjoy soft, smooth skin
Laser hair removal won't leave behind ingrown hairs, razor burn, or stubble like traditional hair removal methods.
Avoid the slow torture of waxing and tweezing
Laser hair removal causes minimal discomfort. Patients have compared the sensation of the laser to rubber band snaps against the skin.
Target precise areas of skin
Elevé's laser technology allows for confident and close-quarters work around eyebrows, lips, and the bikini line.
For most people, the effects of laser hair removal are long-term, although not completely permanent. The intense heat and light do permanently damage the hair follicle. So, after a series of treatments, some patients don't experience regrowth for years, if ever! For those who do see it grow back, the hair is finer and lighter in color. Hair color, skin color, the area treated, and medications can all have an effect on results.
Is Laser Hair Removal Right for You?
Men and women can both benefit from laser hair removal, but it's important to consult with your primary doctor before scheduling treatment. Certain oral and topical medications can raise the risk for adverse side effects.
Laser hair removal also requires a commitment to a series of treatments, because hair grows in cycles. The procedure can only inactivate follicles during the active growth phase, so best results are achieved over the course of four to six sessions spaced weeks apart.
Laser has been a popular and effective hair removal treatment for decades, but it can be dangerous in the hands of someone inexperienced. Qualified providers, like the experts at Elevé, are better suited to achieving the best outcome. Their training and knowledge in both laser hair removal and aesthetic medicine make the process as smooth and pain-free as possible.
Schedule a consultation today to discuss your goals and what to expect during and after treatment. Whether you're ready to get rid of unwanted hair, or just looking to learn more, the Elevé MedSpa laser hair removal team will make sure you are comfortable and well informed every step of the way. Set up a consultation today: 715-847-0000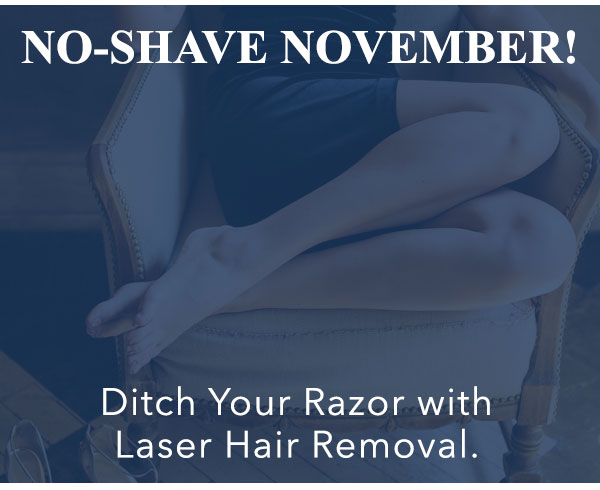 DEXA Scan: Know Your Body. Transform Your Life.
A critical component to living a healthier, more active life is identifying your body's fat composition. Bodyweight and BMI calculation, both considered basic metrics of overall health, can often be misleading because neither reveals the makeup of an individual's body. Identifying healthy weight (lean muscle) and unhealthy weight (excess fat) provides much better insight into achieving a healthier future.
DEXA Scan is the most accurate method for determining total body fat percentage and lean muscle volume.
How can you benefit from a DEXA Scan?
Use precise data to develop the most effective fat loss/muscle building strategy
Identify where you are storing fat on your body
Evaluate dangerous visceral fat hiding around organs
Learn if fat or muscle is causing fluctuations in weight
Track progress and monitor changes with an easy-to-use app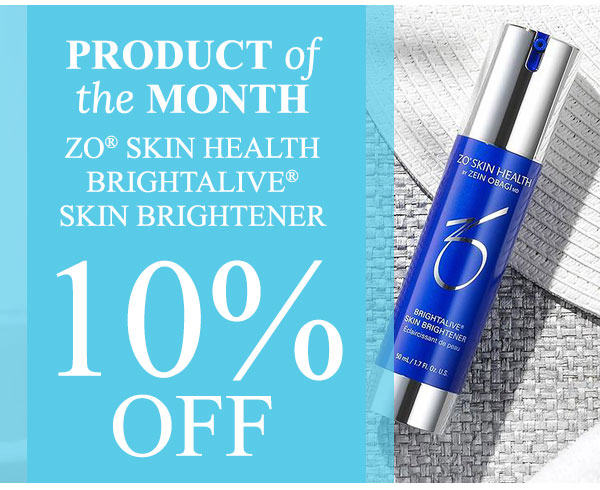 ZO SKIN HEALTH BRIGHTALIVE® is a technologically advanced skin brightener clinically proven to increase luminosity, visibly improve skin clarity and fade the appearance of dark spots for a brighter, more even complexion.
*Must schedule your treatment during the month of November to receive these special offers. Specials cannot be combined with any other special offers. Deals expire 11/30/2022.
BOOK YOUR APPOINTMENT (715) 847-0000
Schedule a Virtual Consultation
Elevé MedSpa & Vitality is committed to helping each and every patient achieve their aesthetic goals. Whether you're looking to enhance your body with a surgical procedure or rejuvenate your face with one of our medspa services, our team produces exceptional results. Our new state-of-the-art facility is the perfect environment for you during your cosmetic journey.