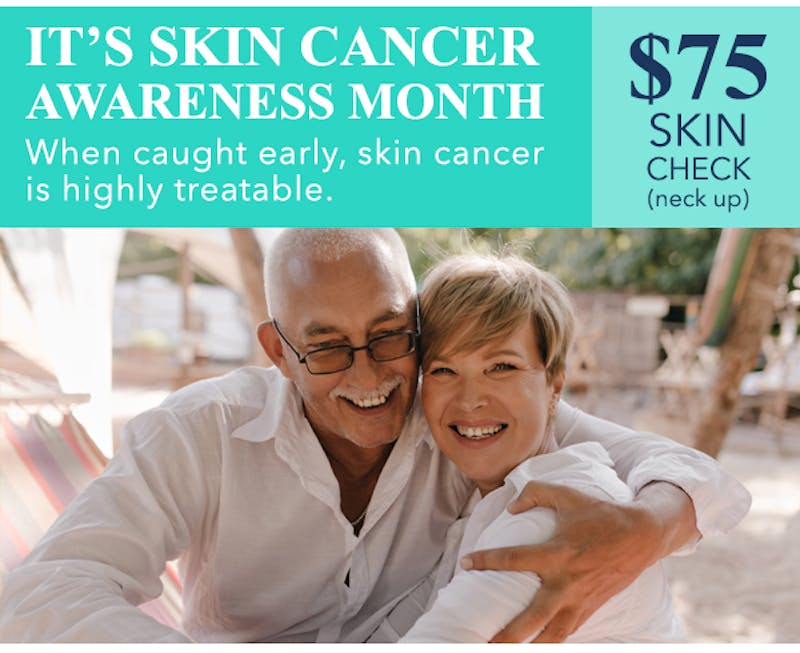 The old adage says April showers bring May flowers, but they aren't the only things blooming when the sun shines brightly in spring. We naturally gravitate toward the outdoors when the weather improves, but you shouldn't go sun-seeking without proper preparation! May is Skin Cancer Awareness Month, and the specialists at Elevé want to remind you there are easy, preventative steps that can ensure your next sunny day is full of vitamin D and peace of mind.
Skin Cancer Prevention: Steps to Reduce Your Risk
We are exposed to the sun's ultraviolet spectrum (UV rays) during multiple activities every day. And we're not just talking about tanning on the beach. Think about all the times you're exposed, even briefly, to sunlight: morning walks, watering flowers, even driving in the late afternoon when the sun is low in the sky. There's a catch-22 in our relationship with the sun, because its light is essential for good health and the production of vitamin D. But, the harmful radiation of UV rays causes skin cells to age and damages cells' DNA.
An estimated one in five adults develop skin cancer in their lifetime, but despite it being the most common form of cancer, it's also highly preventable.
Here, we've outlined four proactive measures you can take to reduce your risk of melanoma and other types of sun damage, like fine lines and age spots.
Don't skimp on the sunscreen
Medical-grade sunscreen is your first line of defense against skin cancer and premature aging. Proven by science, these sunscreens contain minerals that block UVA and UVB rays. Unlike other types, medical-grade sunscreen isn't absorbed into your body and is more effective at protecting your skin.
In general, you should apply two tablespoons of sunscreen 15-30 minutes before your anticipated sun exposure, then reapply every two hours. Sunscreens do expire, so be sure to throw away products that have been sitting in your cabinet for a few too many summers.
All medical-grade sunscreen is 10% off during the month of May at Elevé.
Cover up
In addition to applying sunscreen, it's helpful to wear lightweight long-sleeves and pants for extra protection when you know you'll be exposed to the sun for longer periods. A wide-brimmed hat will also cast excellent shade to protect your face's thin skin and prevent wrinkles.
Some people with a lighter complexion, or those who easily sunburn, may want to consider wearing outer layers specifically designed to block UV radiation.
Stop using tanning beds
The Skin Cancer Foundation says tanning lamps damage your skin cells because of their direct use of ultraviolet (UV) radiation. They are not safe to use and are a known carcinogen, like cigarettes. Just one indoor tanning session can increase your risk of skin cancer by 20%. If you want a golden glow this summer without damaging your skin, use self-tanners or spray tans.
Get checked out
Even if you don't have a family history of skin cancer, it's prudent to schedule an annual skin
check. Elevé staff members are trained to spot any moles that may be starting to become cancerous and offer guidance as necessary. Our skincare experts will also provide tips for check-ups you can conduct at home to stay proactive about your skin health. Skin cancer is highly curable if caught early.

Skin checks (from the neck up) are just $75 at Elevé during May.
Reverse the Appearance of Sun Damage
Over our years of life, the time in the sun adds up. Though, there are solutions for correcting dark spots, wrinkles and broken capillaries. At Elevé, we often recommend:
Chemical peels: By accelerating skin exfoliation, chemical peels smooth fine lines and wrinkles and improve hyperpigmentation.
Dermaplaning: Using a small surgical blade to remove dead skin buildup from the top layer of your skin, dermaplaning will help brighten your complexion and fade age spots.
Microneedling: Microneedling activates your body's regenerative process to encourage collagen production and cell turnover which helps lighten and reverse hyperpigmentation.
Sun damage accumulates over time, so it's never too late to reduce your risk of cancer by taking preventative steps. At Elevé, skincare is one of our specialties, and we have vast experience helping educate and treat patients with a variety of conditions, including sun damage. Contact Elevé today to set up a consultation: 715-847-0000 We're ready to recommend the top products and services available to help you fight the effects of overexposure, protect your skin from additional damage, and develop a roadmap for "turning back the clock" to a more refreshed and younger-looking you!
Elevé specials cannot be combined with other special offers. All expire 5/31/22.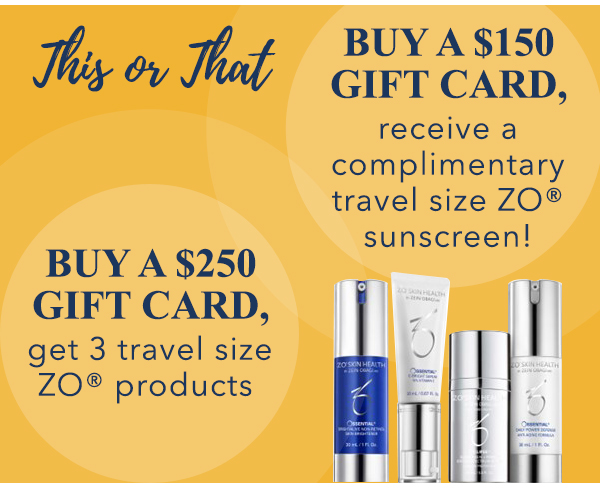 For well over 35 years, Dr. Zein Obagi has been one of the leading figures in the skincare industry, and we're proud to be an authorized distributor of the incredible ZO® Skin Health line of products. Together with ZO® Skin Health, we're able to offer a full and comprehensive approach to healthy, happy skin — so you can put your best face forward, every single day!
ZO® Skin Health can address a wide range of issues and will likely be a great fit if you're looking to address:
Dry skin

Blemishes

Acne

Sun damage

General upkeep

Fine lines

Wrinkles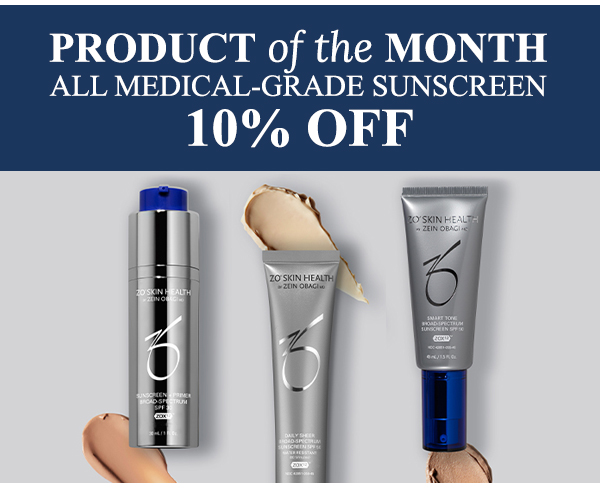 Elevé offers the following medical-grade sunscreen products:
ZO

®

Sunscreen + Primer Broad-Spectrum SPF 30
ZO

®

Broad-Spectrum Sunscreen SPF 50
ZO

®

Smart Tone Broad-Spectrum SPF 50
ZO

®

Daily Sheer Broad-Spectrum SPF 50
ZO

®

Sunscreen + Powder Broad-Spectrum SPF 40
SkinMedica

®

Total Defense + Repair
*Must schedule your treatment during the month of May to receive these special offers. Specials cannot be combined with any other special offers. Expires 05/31/2022
BOOK YOUR APPOINTMENT
715-847-0000
Schedule a Virtual Consultation
Elevé Plastic Surgery and MedSpa is committed to helping each and every patient achieve their aesthetic goals. Whether you're looking to enhance your body with a surgical procedure or rejuvenate your face with one of our medspa services, our team produces exceptional results. Our new state-of-the-art facility is the perfect environment for you during your cosmetic journey.