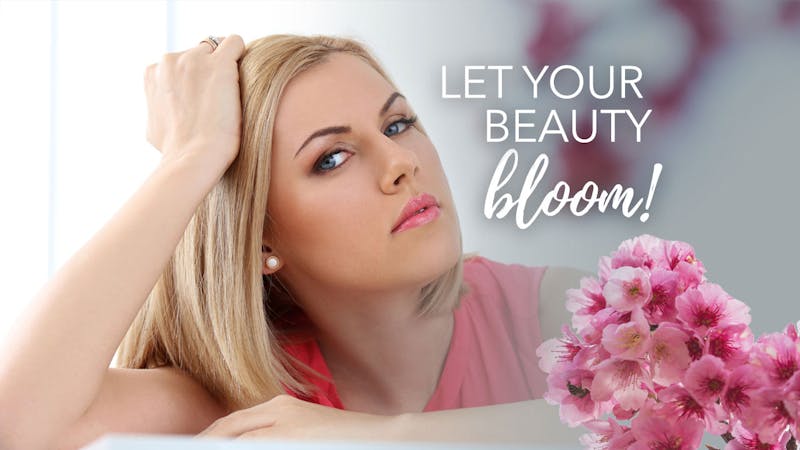 Spring has arrived, and nature's renewal provides the perfect opportunity to refresh and rejuvenate your skin. At Elevé, we're excited to offer a variety of skin care specials during the month of April to help you look and feel your best. Whether you're looking to tighten and reduce cellulite, smooth frown lines, or firm sagging skin, our expert team can help you achieve your goals. This season of new beginnings is the perfect time to invest in yourself and enjoy the benefits of our cutting-edge products and treatments.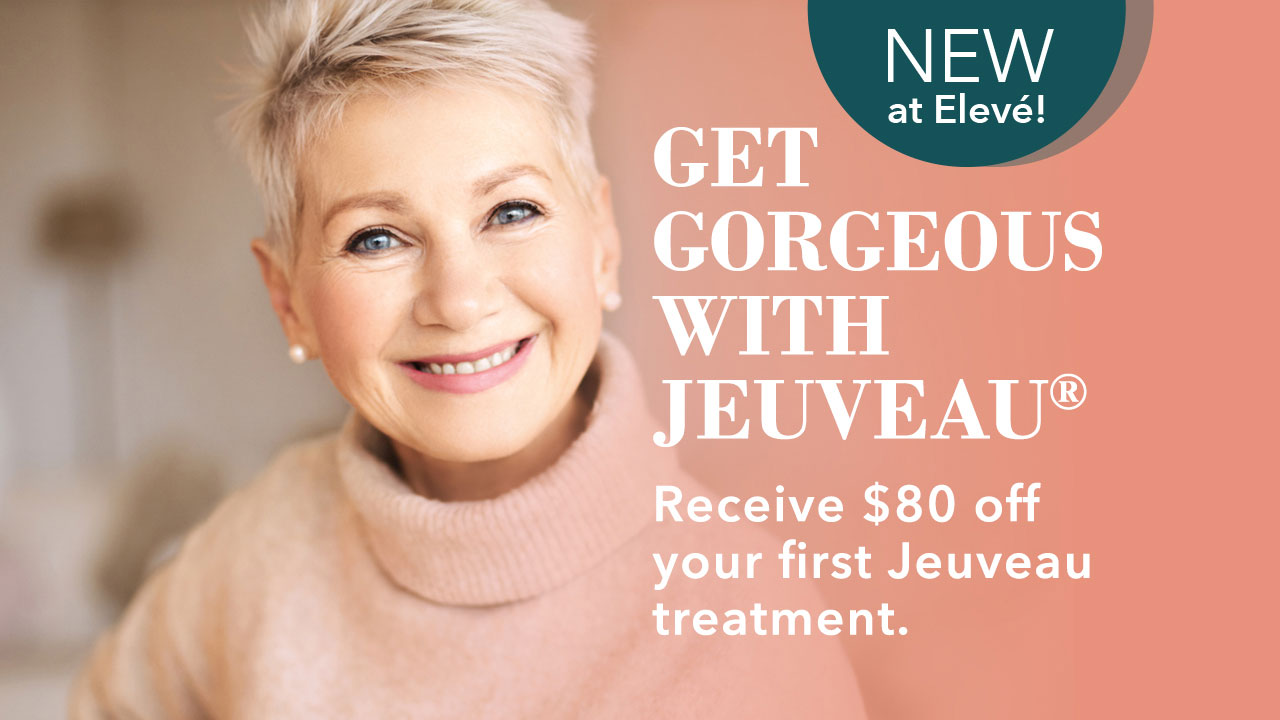 New at Elevé: Jeuveau, The "NEWtox"
Move over BOTOX®, there's a new, non-surgical option for relaxing frown lines and deep furrows between the eyebrows. This "NEWtox," known as Jeuveau®, is an injectable neuromodulator gaining popularity in the aesthetics industry. Its name (pronounced ju-VO) is derived from the French word "nouveau," which means "modern" or "new arrival." At Elevé, we're proud to be one of the first teams in the Wausau area to offer this innovative option and can enthusiastically vouch for its effectiveness.
What is Jeuveau®?
Jeuveau® is an FDA-approved prescription medicine that is injected into facial muscles to temporarily minimize lines and creases between the eyebrows. Like BOTOX® and Dysport®, Jeuveau® works by preventing repeated muscle contractions within a specific treatment area, resulting in a smooth, airbrushed appearance.
This injectable has undergone rigorous testing, including five clinical trials, and proved to be a safe and effective anti-aging treatment.
How is Jeuveau® Different From Other Neuromodulators?
BOTOX® is the oldest and most popular neuromodulator on the market, used by millions of people to treat wrinkles occurring in the upper one-third of the face (i.e., frown lines, crow's feet and forehead wrinkles). Additionally, BOTOX® can be used to treat excessive sweating, chronic migraines, depression, lazy eye and other conditions.
Dysport® is similar to BOTOX® but is more diluted and spreads faster, often producing results quicker than BOTOX®. It is primarily used to correct frown lines and a good option for patients looking to target severe lines in that area.
Jeuveau® was developed exclusively for cosmetic purposes and designed to treat lines between the eyebrows. BOTOX®, on the other hand, treats wrinkles and a variety of medical conditions. The difference allows Jeuveau® to be priced lower than BOTOX®. Furthermore, in studies in Canada and Europe, it even outperformed BOTOX® in head-to-head comparisons.
Recovery & Results
BOTOX® is sometimes referred to as a "lunchtime treatment" because the injection appointment is quick; most visits only take about 30 minutes. You can schedule it during your lunch hour because there is no downtime afterward. Jeuveau® works the same way. Patients can immediately return to work and most activities following treatment. Improvement in the treated area can be observed in as little as a few days, with the full results becoming visible about 10-14 days after the appointment. In most cases, the effects of neuromodulators last at least three to four months.
Can Jeuveau® Be Scheduled With Other Treatments?
There's a big difference between neuromodulators and dermal fillers. Neuromodulators smooth wrinkles by paralyzing muscles. Dermal fillers, on the other hand, plump and fill in the skin. Jeuveau® is an excellent choice for erasing frown lines, while a dermal filler, like Juvéderm®, can help restore volume to the lips.
In a single session, it's possible to combine treatments like Jeuveau® and Juvéderm® to achieve multiple aesthetic goals simultaneously. Jeuveau® is also commonly paired with KYBELLA®, a treatment that destroys fat cells under the chin.
Which Neuromodulator is Right for You?
When selecting a neuromodulator treatment, you must consider the area of the wrinkles you wish to reduce, the severity of your wrinkles, your previous experiences with similar treatments, and your budget. At Elevé, we prioritize a thorough consultation process to help patients make an informed decision about which products and treatments are best for their unique needs.
It's important to note the final outcome of your treatment can be greatly improved by the expertise and experience of the provider. Our team of specialists at Elevé leverages technical skill and extensive experience to determine the most effective techniques to achieve the best results for you.
Schedule a Consultation
If you have questions or would like to schedule a consultation to find out if Jeuveau® is the right fit for your aesthetic goals, call Elevé at 715-847-0000 to get started.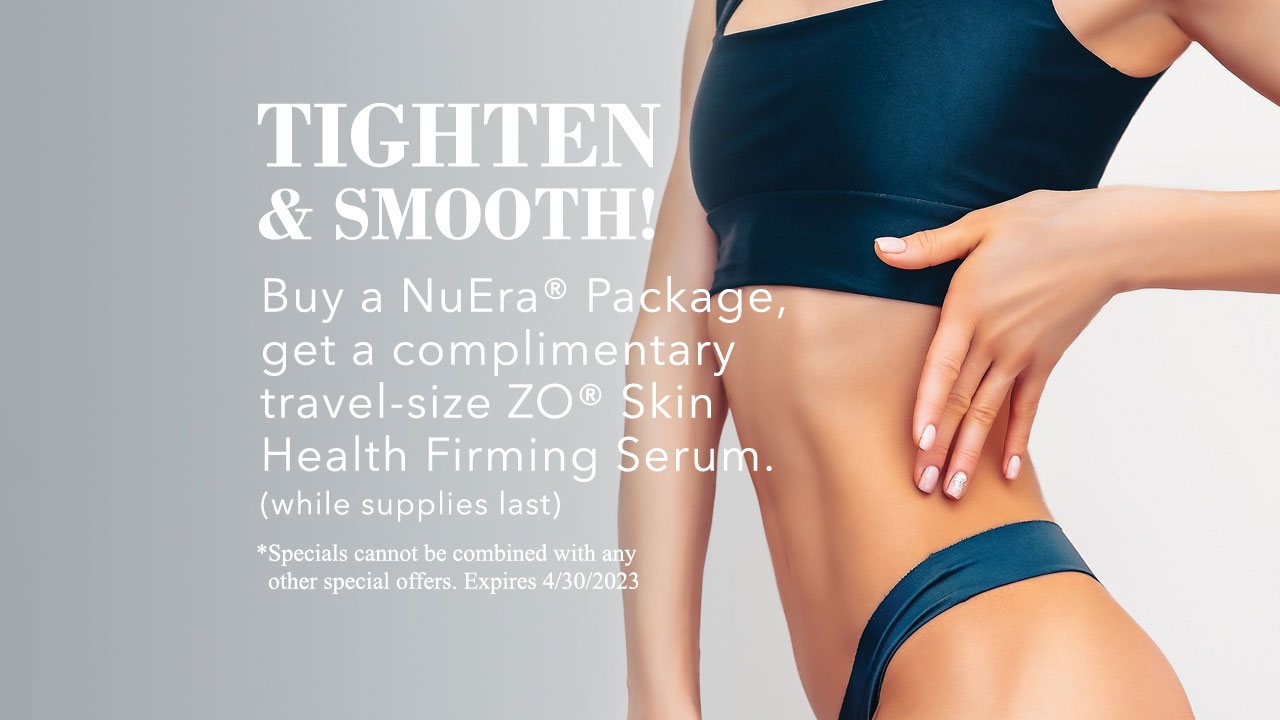 NuEra® Skin Tightening & Cellulite Reduction
Stubborn pockets of extra fat can sometimes persist, even when we're mindful about what we eat and how often we exercise. NuEra® Tight, a radiofrequency device, is a great solution to tighten skin and improve the appearance of cellulite in those "trouble areas," such as the abdomen, buttocks, inner and outer thighs, and upper arms.
Note: NuEra® Tight is intended for individuals who are at or near their target weight and able to commit to maintaining that weight in the future.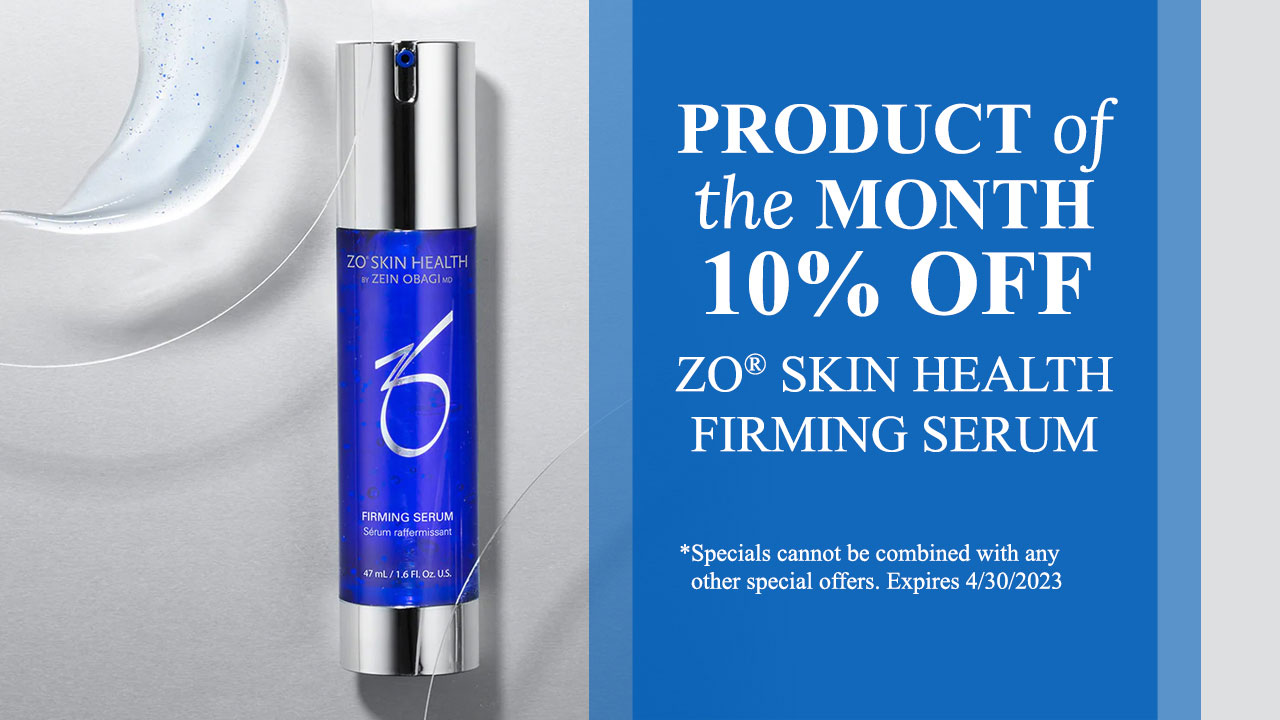 ZO® Skin Health Firming Serum is anti-aging breakthrough in skin structure and shape. This mild, lightweight and tolerable formulation is intended for all skin types and sensitive skin areas to reinforce skin health and hydrate to support the visible improvement in skin elasticity and firmness.
*Must schedule your treatment during the month of April to receive these special offers. Specials cannot be combined with any other special offers. Deals expire 4/30/2023.
BOOK YOUR APPOINTMENT
715-847-0000
Schedule a Virtual Consultation
Elevé is a medical spa focused on wellness.
We are all about preventing illness so you can live with confidence and independence, staying healthier longer.
This means if you want to prevent aging, scarring, cancer, weight gain or need to address a problem area that is keeping you from living your best life now, we are here to help the whole you.
Our practice is owned by 10 surgeons who have served the community for more than 35 years.
They created Elevé out of a passion to treat a person before they are sick… and holistically.
We are supported by practitioners who combined have more than 25 years of experience in the dermatology, vitality and aesthetic fields.